An Awesome Day!!!
Posted on 16 February 2016
Today was one of those days when we are reminded how good it is to live near the coast, and spend time with children. Our entire school spent a full on day at Otaki Beach. We participated in a Beach Education Day which was delivered by trained surf lifeguards from the Himatangi, Paekakariki and Otaki Clubs.
The programme begins covering basic principles of staying safe while having fun at the beach. As the children get older, more in-depth surf knowledge is taught, culminating in students learning how to identify hazards such as rip currents, ways to keep themselves and others safe, and what action to take if they get into trouble.
A highlight for the day was definitely when all the children were able to spend time in the sea...thankfully the weather was perfect, and the sea was warm! The growing waves didn't put off the 21 parents and teachers who showed their skills in the surf. A very big thanks to all parents, aunties, and extended whanau who were able to share the day with us. Mel and Carrie - AWESOME organisation!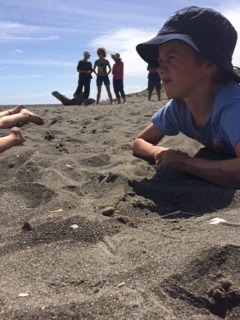 Comments
No comments have been made on this post.
Submit a Comment
Note that comments may need to be approved by the blog creator before they will be displayed.